We may earn commissions from the companies mentioned in this post. View our FTC disclosure for more information.
Does the spelling affect the taste?
Hārer, Harar, or Harrar. You get to choose the spelling and the taste of the coffee doesn't change! I don't actually know why it's spelled three different ways. I'm not that kind of researcher, or any kind of researcher, really. I can say, however, that in the coffee realm it's almost always spelled Harrar. Harrar is a city in eastern Ethiopia, east of Addis Ababa, the country's capitol. The coffee is grown anywhere from 4,500 to 6,300 feet.
The bean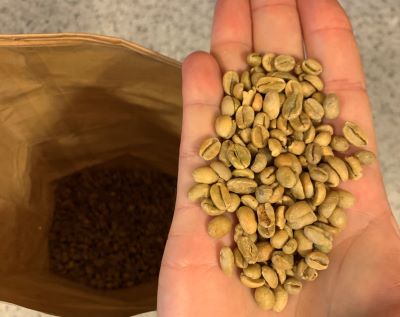 Ethiopian coffees are considered Strictly High Grown (SHG). They grow more slowly resulting in a denser bean. Harrar coffee is an Arabica coffee bean, usually dry processed, creating an uneven appearance in the color of the beans before and after roasting. The uneven appearance doesn't affect the taste, as far as I can tell. On the palate the flavors range from dark chocolate, to dry, red wine, cinnamon, cardamom, blackberry, and apricots. It's really a treat if it's roasted properly and, if done just right, will have a heavy body and strong aroma of blackberries and/or blueberries.
The roast
Roasting Harrar has proven to be difficult for me. I've done around seven or eight half-pound to full-pound roasts, and they've mostly turned out sub-par. Only one roast thus far had the signature berry aroma. That one in particular even tasted strongly of blueberry, more specifically, blueberry muffins. I couldn't even believe how delicious it was. Now I'm just chasing the dragon, roasting small batches until I can get that right again. The other roasts ended up similar in that they didn't have the berry aroma or taste, and had a strong bitterness that you would expect from an over-roasted coffee bean (or dark roast for some of you). They were most definitely not roasted to that degree, but tasted like it regardless. I can't explain! If any of you out there can, please contact me and let me know what the heck is going on.
Where should I buy green coffee?
I've only purchased green coffee from two places, although, there are many more from which to choose.
I've never had any issues with customer service or quality from either. In fact, my most recent order from Copan Trade was for a 25lb custom sampler. One of the coffees I chose was reported by some customers to have a quality issue, so a representative from Copan Trade called me to ask if I'd like to substitute something else before my order shipped. The order was at my door within a couple of days after that. That's terrific customer service!
Whether you decide to order some green coffee for yourself, or pick up a bag of Ethiopia Harrar already roasted, you should give it a try. It's a unique and delicious coffee.